Delta of the river Rhône entering Lake Geneva
Physical modelling for a wetland restoration project.
Context
Delta of the river Rhône entering Lake Geneva (Switzerland) - Client: Cantons of Vaud and Valais - Scale: 1:75
In the context of the third river Rhône training project, the cantons of Vaud and Valais intend to recreate a delta at the mouth of the Rhône as it flows into Lake Geneva. This delta existed in the past but has progressively disappeared, as a result of the construction of embankments on a large scale along the river. The objective today is to reopen the right bank of the Rhône in order to restore this delta.
Purpose of the physical model
The objective of this model is to describe the conditions of formation of the delta. Several different scenarios for opening up the right bank of the Rhône delta have been defined and must be represented on the physical model so that the best scenario can be selected.
In addition, the delta will be subject to waves generated by winds blowing across the surface of the lake. These waves are likely to erode the delta and to generate coastal currents and sediment flows: the physical model will be used to quantify these phenomena and to measure their impact.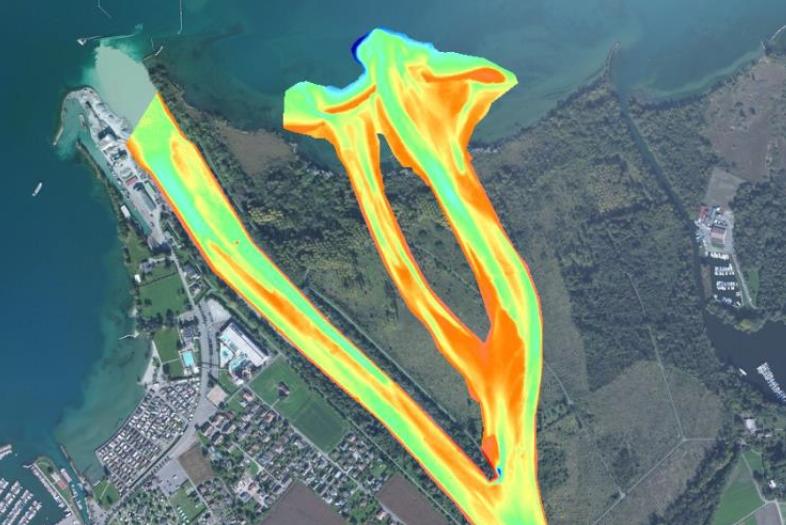 Description of the physical model
The physical model represents the last 1500 metres of the river Rhône in its existing configuration. It also represents the right bank of the Rhône, using erodible materials in order to replicate the development of the future delta.
The model is equipped with a wave generator to create waves and a circulation pump acting horizontally to replicate coastal currents. 
Design flow rates

Represented length of the Rhône

Total represented area

Mean annual discharge: 180 m3/s

100-year flood:
867 m3/s

1000-year flood:
1600 m3/s

1.5 km

1.8 km x 1.3 km

(model: 25 m x
17 m)