Morphodynamics of coastal and estuarine areas
Movable-bed models for bays and estuaries.
Sedimentary dynamics of estuaries and bays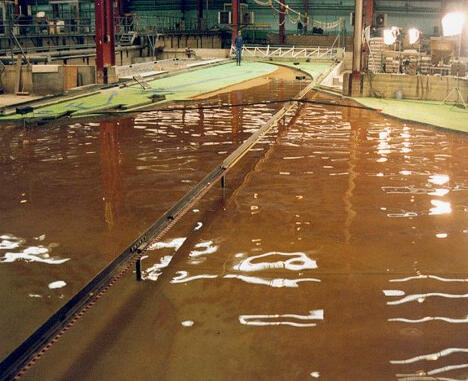 Although numerical modelling can be used to study the morphodynamics of coastal zones, movable-bed sedimentological physical modelling is still a powerful tool for analysing bed changes, especially in shallow-water areas, where breaking waves generate complex sediment transport phenomena.
This type of modelling has hence been employed to study major infrastructure projects located in estuarine zones or within bays.
Two emblematic examples are the sedimentological models built in the context of the project to restore the maritime character of Mont-Saint-Michel, and for the Port 2000 project in the Seine estuary.
Sand spits and the mouths of bays and lagoons are also specific areas where hydrosedimentary mechanisms are complicated to comprehend. Movable-bed sedimentological models provide a means of reproducing these mechanisms and assessing the specific morphological changes taking place along the coastline.
Artelia's Laboratory has cutting-edge expertise in this particular modelling technique, involving scale distortion and using carefully selected loose materials to faithfully replicate the sediment transport processes occurring in nature. This type of modelling is an invaluable analytical aid both for studying coastlines and for designing development schemes in bays and estuaries.
Our expertise
Movable-bed sedimentological modelling to:
examine long-term bed changes

Tidal flat in the Seine estuary - Examination of mitigating measures

analyse the impact of developments on these bed changes, and quantify the risks and volumes of sedimentation and/or erosion
investigate and develop management methods combining effective development with limited impact on the ecosystem: dredging/nourishment, bypass systems, guaging structures, etc.
investigate mitigating measures for development projects.