Grand-Lahou sea outlet stability
30 March 2022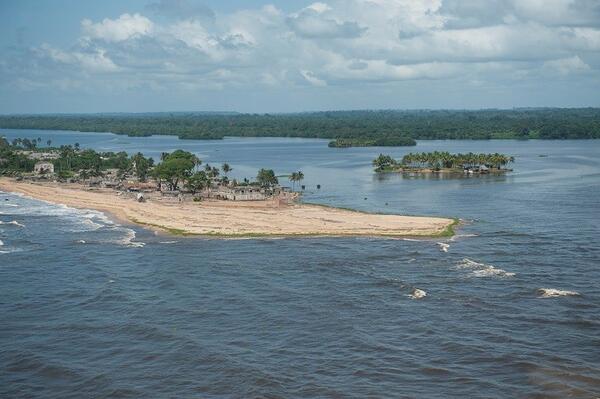 Sedimentological physical modeling for the stabilization of the sand barrier of Grand-Lahou (Ivory Coast) at Artelia Laboratory
The site of Grand-Lahou (Côte d'Ivoire), and in particular the village of Lahou Kpanda, located on the barrier beach of the Tagba lagoon, is highly vulnerable to coastal erosion, linked in particular to the migration of the Bandama River mouth to the sea. The site is also faced with the risks of flooding and submersion.

The WACA (West African Coastal Areas) program provides assistance from the World Bank to improve the management of coastal risks, both natural and man-made, affecting communities and coastal areas in the West African region, by integrating the issue of climate change. Thus, this program gives the opportunity to reconsider the strategy to adopt for a sustainable economic and natural management of the lagoon system, based on the Multisectoral Investment Plan (MIP) of Grand-Lahou.


It is within the framework of this program that Artelia has conducted since 2019 a pre-feasibility study to evaluate options for adapting the mode of coastal management to ensure the stability of the Grand-Lahou sandy barrier. This pre-feasibility identified a preferred solution consisting of creating an artificial opening in the barrier beach at the position of the mouth of 1952, stabilized by soft structural measures. The proposed solution is also in line with the social and economic development of Grand-Lahou, proposing a dredging and channels maintenance plan to improve navigation conditions for users and for the fishing school in the lagoon, and the involvement of local populations in the monitoring and maintenance of the protective structures based on local materials.
This pre-feasibility phase was based on a numerical sedimentological model of the evolution of the dune cordon and the outlet linking the Bandama River and the lagoon area to the sea.

Subsequently, ARTELIA worked to refine the design of the components of the selected solution during the phases of detailed project study and preparation of tender documents.
In support of this project development phase, a physical sedimentological model was implemented in Artelia's laboratory to assess the phenomena at play: maximum scouring depth, erosion zones at the edge of the structure and to measure the efficiency of the planned device: behaviour of the anti-scouring mats in a situation of erosion of the neighbouring bottoms, feasibility of the phasing of the closure of the current channel previously identified by the numerical model.
The objective of this technical design study was to support the Ministry of Environment and Sustainable Development, through the WACA Project Management Unit (WACA PMU), in the effective implementation of the works of the identified solution. The PMU visited the Artelia Laboratory from December 13 to 15, 2021 to monitor the testing of the adaptation option studied on the model. This one plays fully its role to support the communication and the dialogue between the actors of the project.