Causse Correzien dam (France)
Resizing of the "daisy shape" spillway
Client : Syndicat Mixte d'aménagement du Causse Corrézien - Model scale: 1/50
Existing flood spillway

Background
The flood spillway on the Causse Corrézien dam is under-sized in regard to the latest recommendations, which include the ability to discharge a 10,000-years flood while remaining below the maximum water level elevation. In order to define a solution to make up for this shortfall, Artelia was appointed to determine the exact present capacity of the spillway and recommend the most advantageous technical solutions.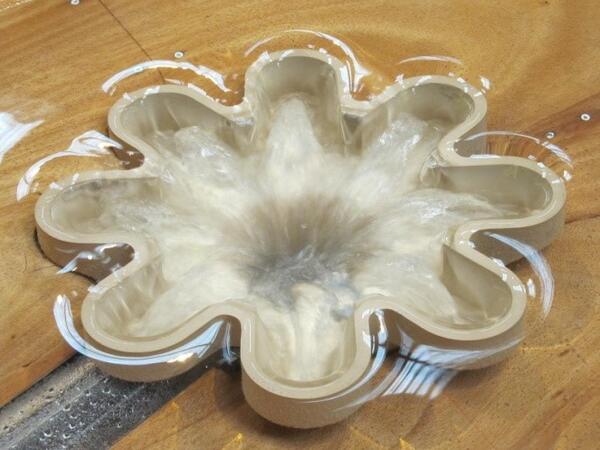 Aim of scale model
The scale model was used to establish the relation between the upstream elevation and the discharge of the flood spillway, consisting of a "daisy shape" (eight-lobed "morning glory") tower with a 100m-long outlet tunnel.By modifying the terrain downstream (excavating an outlet channel), with-project configurations were also tested in order to assess their effectiveness.
Description of scale model
The model is at a scale of 1:50. It represents a large part of the reservoir around the spillway, the flood spillway in its current state, and a 180m section of the river downstream of the dam.