Arzal dam (France)
Conception of a second lock on Arzal dam
Client : Institution d'Aménagement de la Vilaine - Scale : 1/12
Context
The Arzal dam is located in the Vilaine estuary. This structure, which was built in 1970, was designed to reduce flood risks in the Lower Vilaine valley, to manage marsh flooding and to create a fresh water reservoir to produce drinking water. The structure is equipped with a lock, which is causing a few problems: salt water is flowing upstream into the reservoir and lockage cycles are long, blocking the traffic. To tackle these issues, the IAV has decided to build a second lock.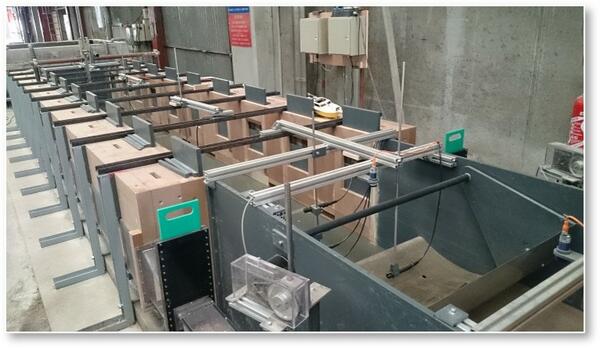 Aims of the physical scale model
Validate the operating principle and its efficiency
Configure pumping times depending on the target drawdown
Define potential adjustment or setting rules for the valves.
Visualise the velocity field inside the fresh water flow discharged into the lock chamber and beyond the flood gates.
Provide a more precise answer with regard to the possibility of keeping a layer of brackish water at the bottom of the lock chamber (underneath the level of the weir) before opening the upstream gate.
Description of the physical scale model
The model represents:
the lock chamber,
the upper and lower aqueducts,
the upstream lock gate,
the bottom inlet openings (saltwater inlet and pumping),
the surface inlet openings for fresh water and their valves,
the upstream water intake gates on the fresh water aqueducts,
the fresh water inlet gates to the aqueducts,
the bottom outlet pumps.